Sewer Services in Regina and the Surrounding Areas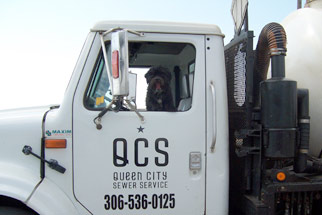 We'll Treat You like Royalty
For over 4 years, Queen City Sewer Service has been providing emergency septic services and repairs for the city of Regina, SK. Our staff has over 50 years of experience, and we work with vacuum trucks to provide septic tank cleaning, troubleshooting, and pump replacement and repairs.
Located in Regina, we offer competitive prices for an honest, reliable value. We are The Little Guy. We specialize in working with customers with large acreages as well as residential and commercial. Call us today and we'll put our years of experience to work for you – there is always someone on call to handle any service you may need. At Queen City Sewer Service, we'll treat you and your sewer system like royalty.
What Our Customers Had To Say
Holly C
Queen City Sewer Service- cannot say enough good about them- fought all day with my septic system- put in a new pump, dealt with blockages, troubleshot between the mound, tank and basement all day- probably, hopefully fingers crossed saved me digging up my whole septic field- kept me informed of everything going on today throughout the process (especially being a female and talking to me like I know how things work as a human being and not being talked down to as just a woman which was awesome)- if you need sewer/septic stuff done, call them- I was really impressed today
Background- I have had my septic drained (different company was only hired to do that and was also amazing) and another plumber different company in a month ago to clear lines and inspect that just took the $ and didn't do a deep dive into any underlying issues (not so amazing), so to have someone that actually cared about their customer today means a lot and Queen City went above and beyond.